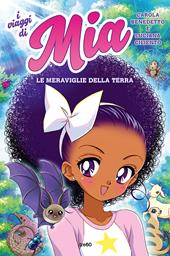 Mia is eleven and is in middle school. Because of the pandemic she has been spending a lot of time at home with her parents. Right at home, she's heard that it is all the bats' fault that humans can no longer go out, while the animals roam free in the streets and squares. Everything in nature seems to have rebelled!
But one night, an unexpected event happens: Trello, a bat with big and sweet eyes, invites Mia on a journey around the world to discover the Earth's extraordinary secrets. How does the cute Ar Acno-spider weave a web that's big enough to cross a river? And why on earth do scarabs like Meo continually roll strange little balls of "Precious"? How is it possible to have a spitting competition with a baby goat in the middle of the desert? And more, how do the plants of the forest communicate with each other? On this unforgettable journey, from the forests of Madagascar to the desert of Morocco, from the plains of Australia to the exotic landscapes of China, Mia, on the great wings of Trello, will meet curious, exotic and fascinating creatures, which will remain forever in her heart.
Age: from 9 years.
Mia has just begun her fantastic journey throughout Italy by telling the wonders of the earth. Our suggestion? Come and meet her… and (it's a secret…) her story doesn't end there!
Magnificent manga style illustrations by Marco Albiero
Publisher: Tre60
https://www.illibraio.it/libri/luciana-ciliento-i-viaggi-di-mia-le-meraviglie-della-terra-9788867026753/